About Irina
Irina Bradley is a Russian Orthodox master icon painter, who specialises in the Russo-Byzantine icon painting tradition practiced by the Prosopon School of Iconology. She studied at the Moscow branch of the Prosopon School and at the Prince's School of Traditional Arts.

Irina is a visiting tutor at the Prince's School of Traditional Arts, teaching MA and general public students, she also teaches icon painting at her Buckinghamshire studio. In order for the tradition to carry on she also passes her knowledge to her children, who have been painting icons for a number of years.

Irina's icons are in churches, private worship and private collections in Australia, Norway, Russia, UAE, United Kingdom and the United States, including the main Russian Orthodox Cathedral of the Dormition of the Mother of God in London
Grinding cinnabar and azurite

Irina uses 23 carat gold leaf and the finest natural earth and mineral pigments in her work. Some of them are very rare, such as azurite, cinnabar, dioptase, lapis and malachite, as well as Tyrean purple, which comes from sea snails and is extremely rare.


---
Archangel Michael (fragment)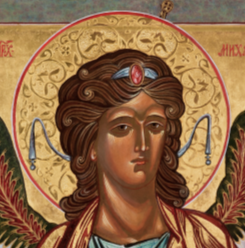 Irina's icons are not commercially oriented, she ensures the attention is paid to the finest detail

Some of Irina's icons have engraved effect halos, which is achieved by a very highly skilled technique. It requires several days to finish the burnishing.


---
Removing linseed oil from the icon of Anastasis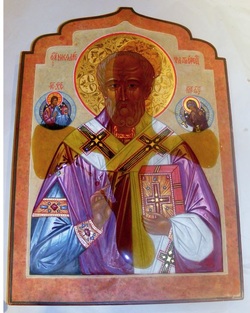 Unlike many modern iconograhpers Irina uses natural media for gilding. Traditionally boiled beer or garlic juice have been used in Russia for priming assist (fine gold lines).

Irina's icons are finished in linseed oil, which is traditionally used in Russia. After the oil is removed, the colours become brighter and the crystal pigments truly shine from within.


---